From pulp to animal feed

Did you know that the water and carbon dioxide in a pulp mill's flue gas is just what micro algae like to feed on? And that this micro algae could then be transformed into biomass which might be used for a variety of products, including fish feed or animal feed?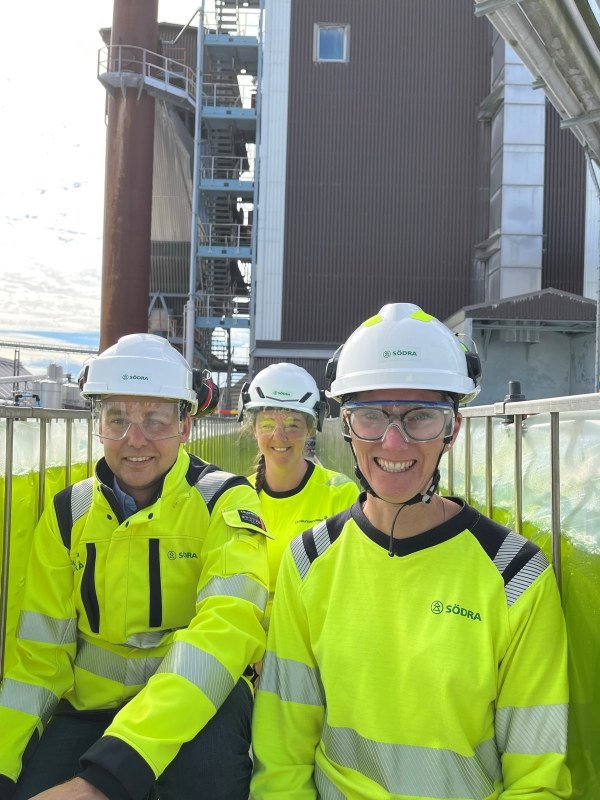 Production across Södra's operations is more than 99 percent free of fossil fuels, so we are well on our way to our ambition of a fossil-free Södra. From the use of bio-fuels in our processes to electric forklifts and HVO in our trucks, we never miss an opportunity to introduce new ideas to improve the sustainability of our operations and develop new innovations to reduce carbon dioxide emissions.
One of the latest examples is a research collaboration with Linnaeus University via the Algoland project, through which micro algae could be cultivated to reduce carbon dioxide emissions at our pulp mill in Mönsterås and generate a range of bio-based, sustainable products. These include animal feed, which is a major source of greenhouse gas emissions globally.
The microalgae are grown and thrive in "Green Wall" panels and then fed with flue gases, which contain carbon dioxide, from the lime kiln and water from the pulping process. When the algae are cultivated and nourished, biomass is formed that could be used at a large-scale plant to produce sustainable fish and animal feed.
Microalgae can absorb nutrients and bind carbon dioxide emissions. In addition, the possibilities of recirculating water in the production process to reduce water demand will be investigated.
"We continuously work on projects and collaborations that can lead to new sustainable solutions and business opportunities," said Brand Manager Johanna Martin. "This is one of the latest examples."
Show all content for topic.
Subjects: Pulp
News
Subjects: Pulp
Published:
Share