Värö has been completely rebuilt in to one of the world's largest and most modern softwood kraft pulp mills. With continuous investmests the capacity expanded to 760,000 tonnes per year. It is also an important supplier of green energy, generating 1.6 TWh annually.
Värö is situated on the Värö peninsula in Varberg municipality, some 60 kilometres south of Gothenburg. Its proximity to our members' forests in western Sweden minimises transport distances for raw materials, while shipping the finished pulp from the West Coast optimises transportation to international customers.
Ahead of its time
In many ways, Värö has always been a forerunner in terms of sustainability, including switching their production to chlorine-free pulp and becoming fossil-free in their day-to-day operations.
The Värö site is also home to Södra Innovation, our R&D hub, so new ideas can be tested at either the pulp mill or one of Södra's sawmills. This results in many synergies in different areas such as wood procurement and energy, for example.
Onwards to a greener future!
Värö's main focus is pulp but it also produces green electricity, district heating and biofuel to help preserve the climate for future generations. All the energy products sold by Södra are derived from the forest and are 100 per cent natural and renewable. Our pulp production generates enough electricity to power the mill, and the surplus provides nearby communities with increasing amounts of green electricity and district heating.
The growing reliance on district heating from Södra is reducing emissions of greenhouse gases, since more than 99 per cent of the energy from Södra is derived from biofuels. The district heating network is mainly heated by residual heat from this process. Södra is one of the largest producers of green electricity eligible for green electricity certificates in Sweden. One electricity certificate is equivalent to one MWh (1,000 kWh) of electricity generated from renewable energy sources, such as biofuel. The pulp mills also supply other types of biofuel products, such as tall oil, bark and pellets. Tall oil is used to produce biodiesel, which can replace petrodiesel in most diesel engines. We also have wind turbines adjacent to the pulp mill (at all three Södra pulp mills in fact), and on land owned by our members.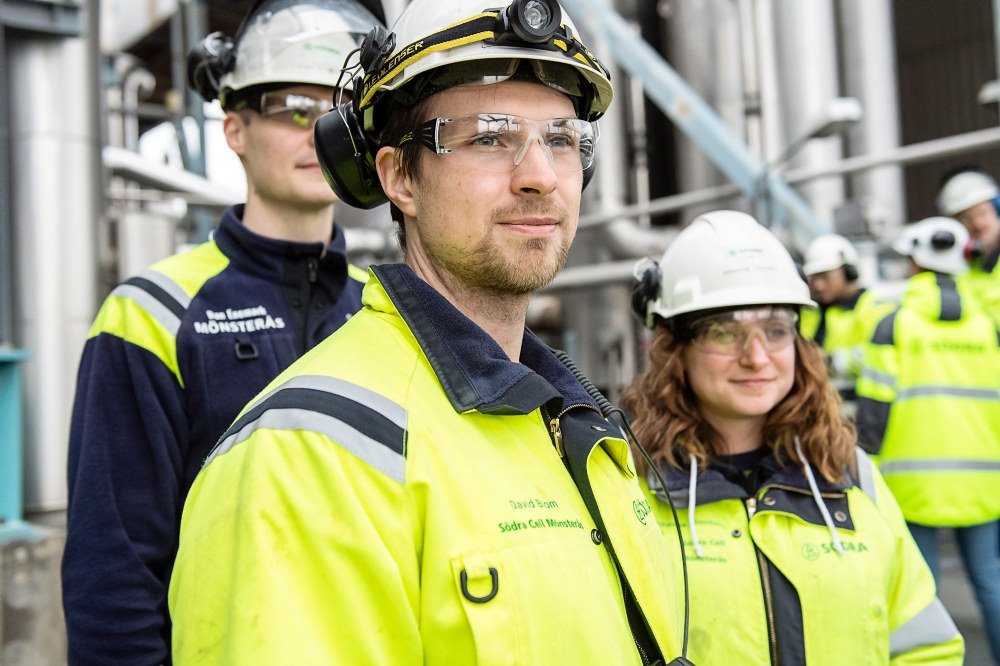 Working at Värö
With us you'll find many exciting professions. A list of open positions can be found on our career page. Start or continue your career with us.