OnceMore®: Next step of journey begins with Lenzing

Last month, teams from Södra's dissolving pulp and Lenzing, the world's leading supplier of wood-based textile fibres, met to celebrate 10 years of partnership and to launch the next phase of their working together for a more circular textile industry.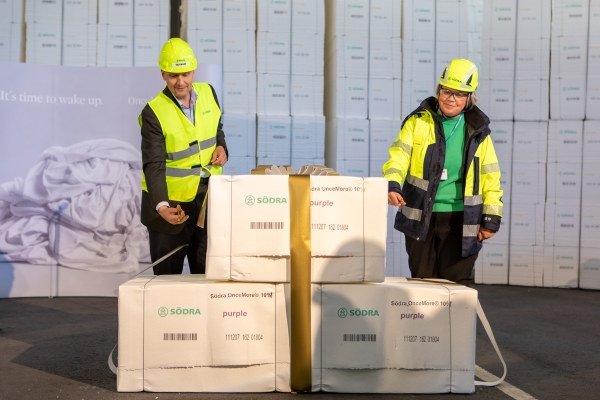 "As partners we have spent the last decade in the pursuit of new commercial opportunities for dissolving pulp", says Angeline Elfström, Business Development Manager OnceMore®. "Now our relationship as partners in circularity is entering a new stage as we seek to drive the textile industry to more circular solutions. Together with Lenzing, we are now increasing the production capacity of our groundbreaking textile pulp, OnceMore®, tenfold, to produce as much as 6,000 tpy of textile pulp at Södra Cell Mörrum, enough for 24 million garments. At the same time, the proportion of recycled textiles in the pulp will also increase, to 50% by 2025."
"The collaboration with Lenzing means we can use our joint expertise to develop innovative solutions to drive the textile sector towards greater circularity. Lenzing will play an important role in the development of the process for phase 2 and beyond, and together we can contribute to a more sustainable, circular industry which will help tackle climate change", says Åsa Degerman, Project Manager for OnceMore®.