Packaging post-pandemic: Where to next?

Södra was a sponsor of the Hawkins Wright London Pulp Week Symposium which was held virtually last November. In a presentation on packaging, McKinsey's Daniel Nordigården shared the findings of a new report on packaging after Covid-19.
How will supply chains look as they emerge from the pandemic? What mega trends will drive packaging forward in 2021 and beyond? McKinsey predicts six mega trends which will be the key shapers over the next 5-10 years. Some have already impacted the industry; some will be magnified by the pandemic.
Sustainability
It was already a key shaper of the sector and is here to stay. During the crisis, managing sustainability requirements took a back seat, but sustainability concerns will accelerate again.
Online grocery shopping has been fast-forwarded
The rise of e-commerce was significantly accelerated by Covid-19. Before the crisis, the online grocery market in the U.S. was around 2-3%. In April, online penetration for groceries hit 17% and many now predict it will settle at around 10% - this was a figure previously thought achievable only in five years' time.
Consumer and customer preference are changing rapidly
Health and wellness continue to be major concerns and a key factor, as well as convenience and price sensitivity – consumers are extremely conscious of cost in the face of uncertainty.
FMCG and retail margin compression
Linked to the above. Margins will be increasingly squeezed as retailers push back on their suppliers.
Digitalization of packaging and the Internet of Things
A long-running trend that has never really taken off – but now it is expected to accelerate as the cost of track-and-trace components falls and the importance of resilient supply chains increases.
New! Hygiene concerns
A new driver directly related to the pandemic. Food safety and hygiene concerns are now top of the agenda for consumers and will stick. It will be important to address consumer concerns, along with sustainability.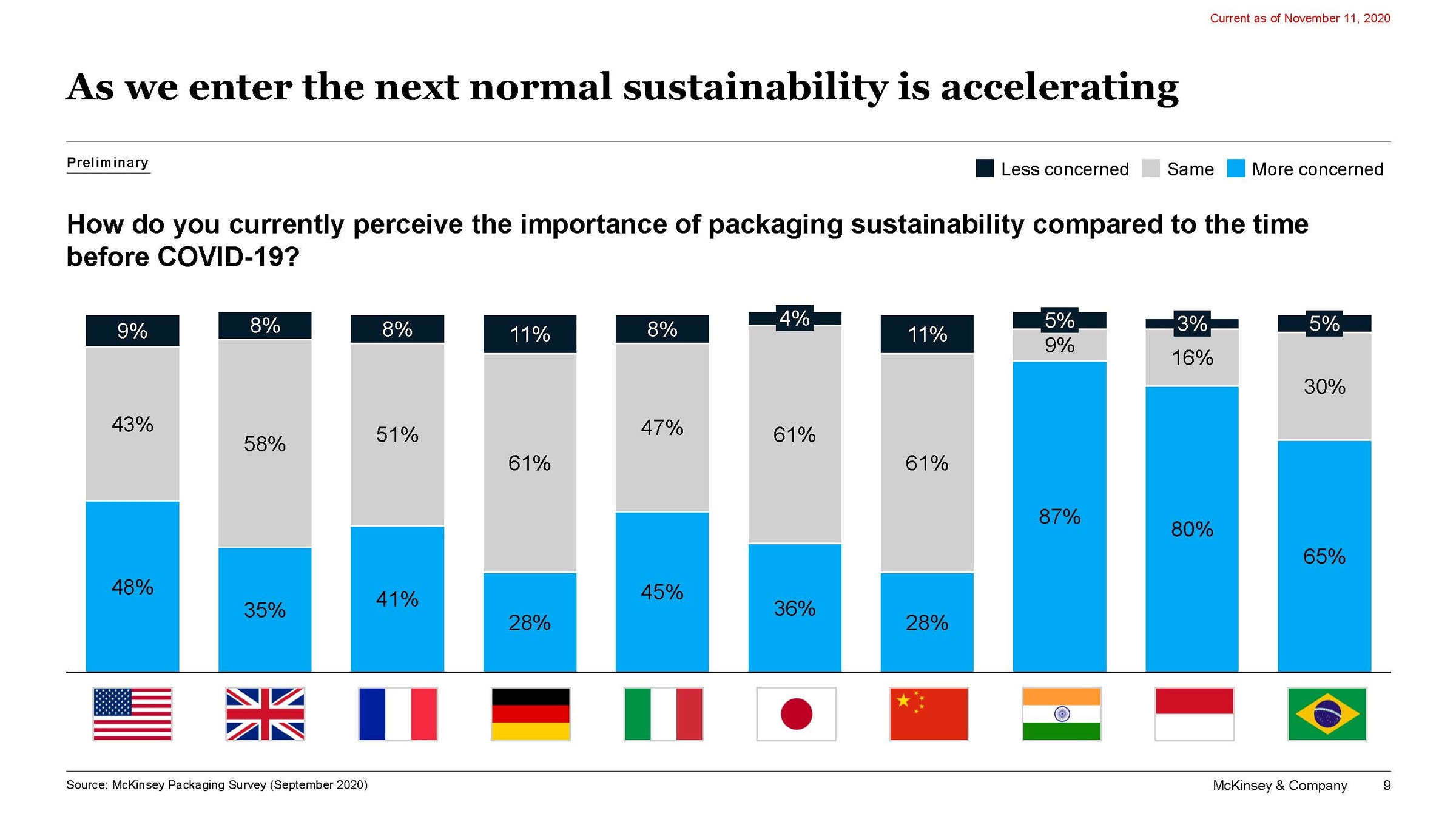 There are three things to keep in mind for the 'next normal':
It will be very important for the whole value chain to have an updated product and technology strategy roadmap with related narratives. Assume that the majority of products will be sold online. New products will need new features which could place new demands on pulp and paper producers. Partnerships may be needed across the chain.
There will be wins: Prices and margin pressures will need to be managed, but new customers could emerge, as could new materials, partnerships and open innovation. Sustainability will play a key part here.
Companies will need to consider regional strategies and resilient supply chains - not global with a regional twist. They will need end-to-end regional strategies to help customers guarantee availability and regional supply security and they may even need to consider higher value-chain integration to this end.
To view the full slides from this presentation, click here
Show all content for topic.
Subjects: Pulp
News
Subjects: Pulp
Published:
Share