Dissolving pulp: A celebration 6,000 km apart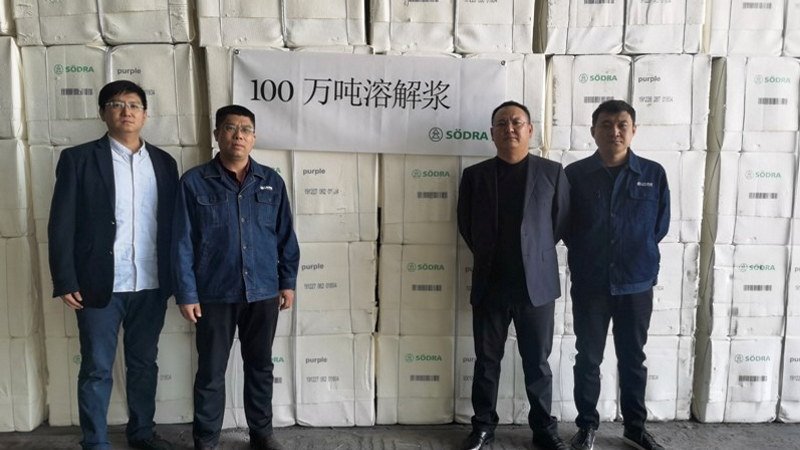 At the end of March, Tangshan Sanyou took delivery of the millionth tonne of dissolving pulp from Södra's Mörrum mill. This moment was a milestone in more ways than just the number, as Dag Benestad, Sales Director for Dissolving Pulp, explains.
"I was delighted to see the photo of our friends at Tangshan Sanyou receiving the shipment for several reasons. They are our biggest viscose customer and we have enjoyed excellent cooperation since the start of working together.

The global restrictions on travel due to COVID-19 meant that I could not be there in person, but I was delighted to see from the photo that the pulp arrived in the same shape as it left our Mörrum mill, over 6,000 km away after a journey of 57 days. This is a testament to our Take Care programme, our delivery guarantee that we look after our pulp every step of the way from our mill to its final destination, wherever that may be and regardless of how many steps in the journey there may be.

In this case, Sanyou's pulp left our Mörrum mill on a 3-day trip to the port of Halmstad where it set sail for the port of Hamburg. From Hamburg it sailed to Xingang port, a crossing that took 43 days. From the port it is brought by truck up to the mill. All our partners in the supply chain understand our high expectations and the work we do together to maintain standards has clearly paid off.

It is also great to have some good news to share in these difficult times. China's textile's industry has faced extreme challenges in recent months, impacted first by trade wars with the U.S. and then by COVID-19, both domestically and then internationally, as countries around the world suffer the human and economic costs of the virus.
Caption: Tangshan Sanyou takes delivery of the millionth tonne of dissolving pulp produced by Södra's mill in Mörrum.
From left to right: Ma Hui, Deputy Manager Purchasing, Zhang Dongbin, General Manager Production, Liu Haidong, Deputy General Manager, and Wang Kan, Purchasing Manager.
Show all content for topic.
Subjects: Pulp
News
Subjects: Pulp
Published:
Share