Partnership in practice
In late January, Södra Cell Mönsterås hosted a two-day visit from Lessebo Paper to learn more about each other with a view to adding value to Lessebo's processes. The co-operation is a great example of a working partnership with Södra.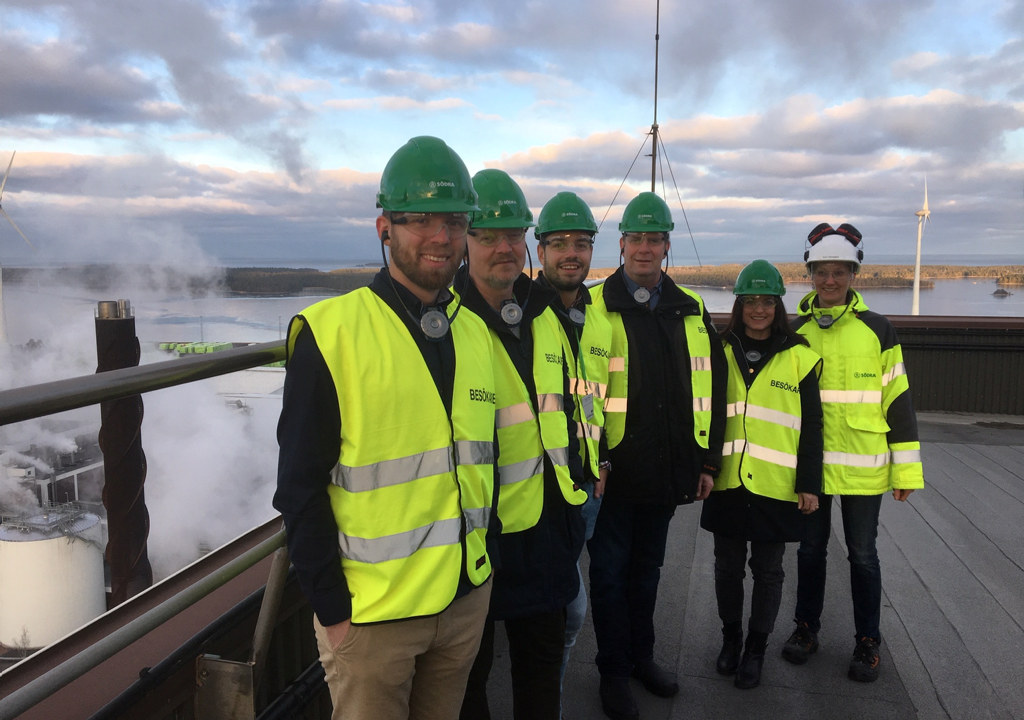 Eric Sigurdsson, Johan Pleijel, Rolf Ask and Johan Karlsson from Lessebo Paper, Maria Staxhammar from Södra Cell International and Karin Dernegård from Södra Cell Mönsterås.
With a capacity of 35,000 tpy, Lessebo Paper may be small in volume terms, but it punches above its weight on reputation. Making premium paper that it markets as 'the world's best paper', the 300-year old Swedish papermaker has built a business on quality, a genuine environmental approach and unique service. End uses include brochures for Volvo and ballot papers for Sweden's national elections.

Södra is the company's sole pulp supplier, delivering hardwood pulp from Mönsterås, and softwood pulp from Mörrum, so partnership is vital for both sides.
Eric Sigurdsson, CEO of Lessebo Paper, acknowledged the importance of Södra's additional services via Pulp+: "We use the Technical Support service under Ann Nilsson's management. Södra helps us determine whether our equipment is compatible with their pulp. This support and technical assistance are so important to us."
Eric and his production management visited the mill and were given a guided tour of Södra's forest to see sustainable forestry in action.
Maria Staxhammar is Södra's Sales Director for Sweden. "Lessebo is a loyal and long-standing customer," she says. "We have always worked well together and with a new site management, it's especially important for us to get to know each other better and discuss our future development together. Lessebo is a special customer that all employees should be proud of. Next time you see a Volvo brochure, when the orange envelope arrives in the mail (Sweden's pension service), or you cast your vote in Sweden, remember that the pulp came from Södra!"
Ann Nilsson, technical product manager: "It's an exciting time to be working with Lessebo - they have several investments underway, in sulphite pulp and a tissue machine. Everyone is enthusiastic about working with development and it's great that we can help. For example, we are currently checking the grinding equipment in one of their paper machines."
Show all content for topic.
Subjects: Pulp
News
Subjects: Pulp
Published:
Share