Melitta and Södra celebrate a new milestone
Ingolf Ewe, Head of Raw Material Purchasing at Melitta, knows a thing or two about coffee, and about his pulp supplier. As our customer at Melitta for almost three decades, it is his job to choose the pulp used to make what is possibly the most well-known coffee filter brand in the world, and he continues to choose Södra.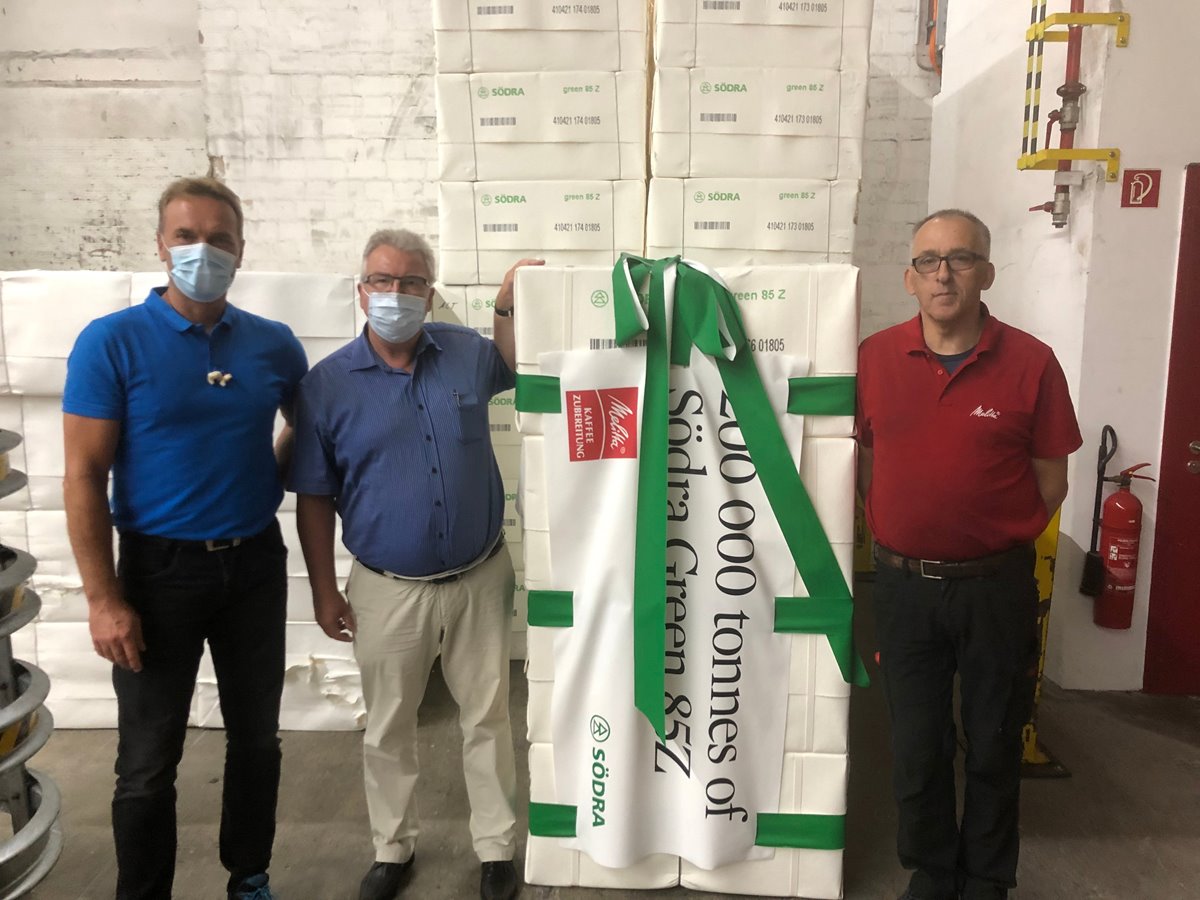 Melitta takes its name from German housewife Melitta Bentz who first began making coffee in 1908, using a piece of blotting paper from her eldest son's exercise book. Some 113 years and a lot of refinement later, it is still the preferred choice of coffee purists today, Ingolf Ewe included.
Södra has been supplying Melitta for almost 30 years and our partnership together has many milestones, the latest of which was the delivery of our 200,000th tonne earlier this month.
"This is a relationship based on much more than tonnage," commented Sales Director Oliver Söder. All three people in the photo have been there since the start when we delivered our first tonne."
Ingolf Ewe has been with the company 45 years. He agrees. "What do I most value in a supplier? Consistency and reliability but also the family feel of Södra with its 53,000 forest owners, their long-term approach internally and externally, and the trust we have built together. Transparency and innovative power are also important."
"I also like Södra's online Pulp+ services which we find useful for introducing our apprentices to the pulp world. Södra has been a pioneer on several fronts, from TCF pulp to online services, sustainability, and marketing, as well as extras such as the paper alternative to steel baling straps, FiberSafe™ which we appreciate here.
"Next we may look at the possibility of starting a small technical project together to learn more about digitalisation and investigate the integration of our barcode data on the pulp bales in an IT system. Södra is also planning a sustainability workshop with us (most probably online)."
"We had hoped to meet in person, but Covid-19 dictated otherwise," said Söder. "Still, as soon as we can, we will meet in Minden to celebrate with a cup of Melitta coffee from the new EPOS machine (Melitta® EPOS® is the first electric Pour Over system). It's an exciting innovation, but still includes a coffee filter made with Södra pulp!"
Show all content for topic.
Subjects: Pulp
News
Subjects: Pulp
Published:
Share