Värö 2023 investment programme ready to fly

Alongside the installation of a new CLT line at Värö, the mill is in the process of implementing its 2023 investment programme, covering several aspects of operations. The programme comprises a new planer line, kilns and chip handling facility.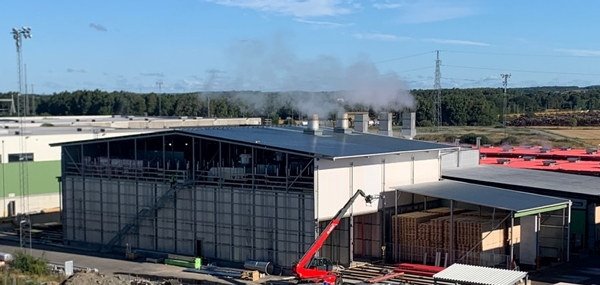 The Gilbert planer line supplied by CGV replaces an existing line and will have a capacity of 300,000 m³ per annum based on a two-shift working pattern. It will raise the mill's planing capacity to just over 600,000 m³ and will feature double trimmers to ensure the greater accuracy and selectivity required for the finger jointing associated with CLT.
The two new Heinola kilns will add 100,000 m³ to the mill's annual kilning capacity. The aim is not only to supply the extra capacity needs of the CLT line, but to meet the CLT requirement for timber dried to 12 percent, rather than the more standard 18 percent.
The chip handling plant will offer an initial 7,500-tonne chip production capacity increase, with the potential to add a total of 22,500 tonnes in due course, which will enable an increase in pellet production.
"By early 2023, the mill-wide investments to upgrade Värö in support of the new CLT line are expected to start up," said Södra Wood Värö Production Director Patric Olsson. "The new CLT line, with its capacity to produce panels up to 16-m in length, places stringent demands on wood preparation in terms of quality and consistency. The key is to ensure optimum product flow through the mill. The new planing line and kilns will bring the whole facility up to industry-leading standards, while the investment in chips handling will contribute to the optimized running of the mill as a whole."