OnceMore® by Södra gets noticed at Challenge the Fabric
We were delighted that two of our OnceMore® team, Johannes Bogren, Vice President Södra Cell Bioproducts, and Angeline Elfström, Business Development Manager, were invited to join the discussions at the second Challenge the Fabric (CTF) event in Paris earlier this week. CTF is a cross-industry collaboration hosted by Ekman & Co together with the Swedish Fashion Council. The aim is to connect the supply chain of forest-based textiles and to improve and build upon the perception of manmade cellulose-based fibres as a way of attaining a more traceable and sustainable textile industry.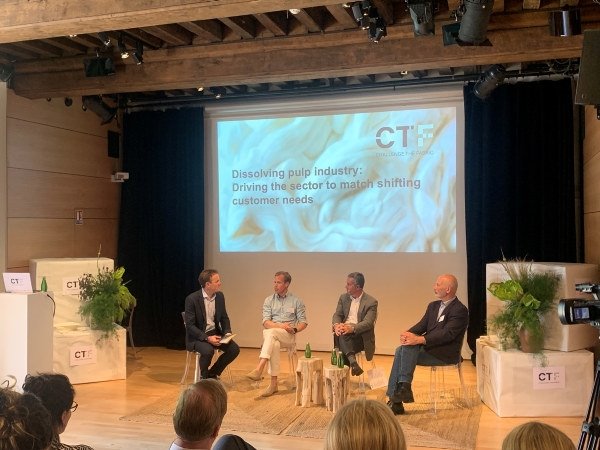 Johannes talked about how fibre from renewable forests has the potential to provide sustainable alternatives to fossil-based textiles and play a meaningful role in climate change mitigation as a result. "I was so pleased to have the chance to engage with existing and potential partners in this exciting opportunity," he said, "and to explain that forests are really a key part of the solution for a more circular textile model fit for the future. Consumers want to make active, sustainable choices and we need to help them do that."
Angeline took part in the discussions on "next generation feedstock", focusing on the challenges in the value chain, such as textile collections, sorting and recycling.
"OnceMore® is our contribution to making the textile industry circular and lowering carbon dioxide emissions in the textile value chain. Resource and production efficiency combined with ambitious targets to reduce our own emissions through Science-Based Targets mean we are committed to making this happen.
"Huge change is needed on so many levels. The textile industry is a 100-million tonne business, and no single country, company or scientist can create a circular industry on their own. We need to work together to create a system which rewards sustainability. Legislators need to push the system to create circular flows and infrastructure, producers need to design for circularity and consumers need to be helped to take conscious decisions by implementing a simple and joined-up labelling system. Everyone has a role to play, starting with designing clothes which can be more easily recycled. We need to educate the industry in this respect, since we have the expertise to help others understand what is feasible and what is not when it comes to textile recycling.
"We need to work closely together, to understand the entire value chain. For us, at Södra this is a new way of working, as it for many of the brands we have been talking to over the last year, who have not spoken to a pulp producer before. We need to continue on this journey, building connections with all stakeholders in the value chain to get everyone involved, take responsibility, build trust and create a transparent supply chain."