Only a minute to grow an eight-storey apartment building…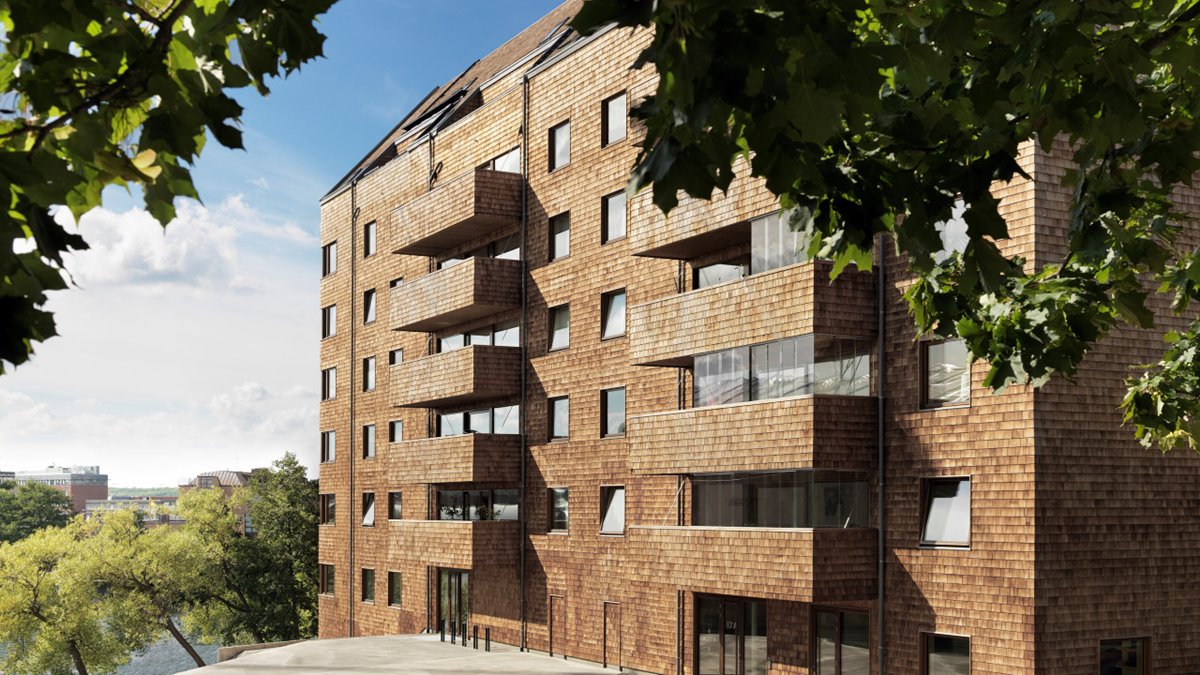 Annual forest expansion in Sweden means it only takes a minute to grow an eight-story, 64-unit building - the forest expands by one hundred million cubic metres a year. This is one of the reasons why Swedish builder Folkhem has built exclusively in wood since June 2013.
Concrete and steel has dominated construction in Sweden for the past 80 years but Folkhem was determined to break the pattern. As marketing manager Sandra Frank says: "We realised the building industry could really make a difference in terms of climate change. By devoting ourselves to wood-only construction from the ground up, we were making a statement as well as a commitment. Only 10 percent of new buildings in Europe are built from wood; why not more?"
Folkhem's tallest buildings are now 20 storeys, facilitated by CLT. They are striking to look at, their acoustics are distinctive and they smell fresh of the forest. Energy consumption to live in a timber-only house is around 25 percent less than required by Sweden's strict building regulations.
There are also significant advantages in terms of construction. While 22 months is a typical build time for a conventional house, a Folkhem house normally takes around seven months to construct thanks to the substantial pre-fabrication which is possible.
"It's about education," Sandra continues. "Many smaller companies are already convinced that it is cheaper and better to build in wood but companies which haven't tried don't believe it. Our experience is that the real cost figures are better than theoretical figures, and if we get more companies to build houses in wood then the costs will come down further."
"We believe we are ahead of regulation that will come," says Sandra. "At the 2015 United Nations Climate Change Conference in Paris, is was clear to us that building regulations would change in the near future. We need to focus on construction because if a traditionally-built house lasts 100 years, 80 percent of the energy expended in its lifetime is consumed within the first two years by building and the production of materials. As the only solution which stores carbon and is not based on fossil-based resources, all-timber construction could have a dramatic positive effect on climate change and with vision and cooperation it is within our reach."