Discarded Christmas trees and used textiles turn into unique dress

Today, the unique dress created by fashion designer Ida Klamborn, based on Södra's OnceMore® textile pulp, is unveiled. The dress is the result of a collaboration between the designer, Södra with OnceMore®, Lindex and the Swedish Forest Industries Federation. "We want to show how fashion can contribute to taking the next step towards a more sustainable society", says Åsa Degerman, Manager OnceMore®.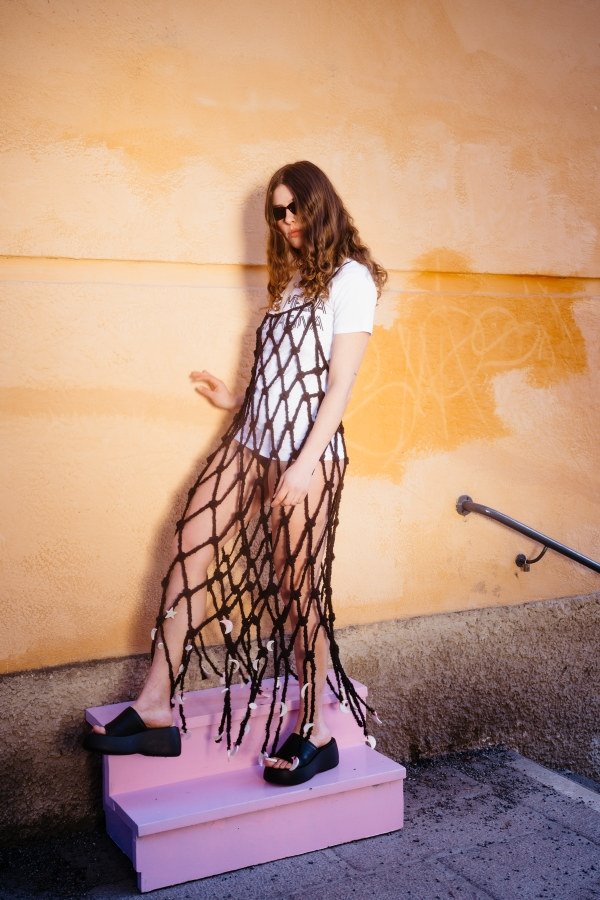 The collaborative project, initiated by the Swedish Forest Industries Federation, raises the issue of circularity and consumption with the help of old Christmas trees. The result is a dress based on renewable wood fibre and textile waste with elements of Christmas trees.
"We need to open our minds and embrace the creative work that both art and fashion stand for to take the next step towards a more sustainable society. Ida and this cross-industry collaboration inspire us to do just that," says Degerman.
With the discarded Christmas trees as details, Ida Klamborn has designed a unique braided dress from OnceMore-based® raw material from which Lindex then developed and produced fabric. The unique viscose fabric consists of end-of-life textiles that get a new life mixed with renewable wood from responsibly-managed forests. It is the result of the collaboration between OnceMore®, Södra and Lindex. For Ida Klamborn, the dress visualizes all the small elements from which it is actually created, with everything intertwining and becoming something new again:
"When we design and create garments, we must add the circular aspect from the very beginning. Slowly the fashion industry is moving in the right direction, but there is so much to explore. Collaborations with other industries, such as the Forest Industry, are particularly exciting. How can we all do something that leads to change? My way of taking apart the spruce trees and then building them up into something new became a consistent working method. This assignment has raised many questions and I want to continue to develop those thoughts even after this project," explains Klamborn.
Södra is a large forest owner association whose members' forests become wood products, building systems, paper and textile pulp, fuels and much more. OnceMore® is the world's first large-scale process for recycling blended fabrics. The process combines post-consumer textile waste with renewable wood from responsibly managed forests to produce high-quality textile pulp.
"It's fantastic to see how the same raw material can become different products – from our members' forests and textile waste to Lindex stores and now to a designer dress," adds Degerman.
Auction for Ukraine
The dress will be auctioned to the highest bidder at Tradera. The auction, which also starts today, April 18, will run until May 2. The proceeds will be donated to those in need in Ukraine and the reconstruction of the country through the organization ReStart Ukraine. Artist Peter Lindberg was also commissioned. His work visualizes how we are all interconnected and connecting to Ukraine.
"The project shows how together we can drive the transition towards a circular society where the vision is that nothing should go to waste, no matter what product we manufacture," says Viveka Beckeman, CEO of the Swedish Forest Industries Federation.
For additional information, please contact:
Angeline Elfström, Business Development Manager, OnceMore
Phone: +46 72-583 48 87
Email:
Lina Ulveklint Imbro, Communications Specialist, Swedish Forest Industries Federation
Phone: +46 768 00 15 65
Email:
About Ida Klamborn
Ida Klamborn took the fashion world by storm in 2014. With a focus on interesting design, quality, good working conditions in the factory and reasonable production quantities, Ida creates garments that mean more than a garment to the wearer – and to others. Personal and political fashion is something that characterizes Ida Klamborn.
About Peter Lindberg
Peter Lindberg was born in Uppsala, but now works in Visby. For over twenty years he has been creating art under the name plindberg. He wants to broaden the art world. At Peter's studio, you can for example lease a painting. A gender equality decision according to himself.
About the Swedish Forest Industries Federation
The Swedish Forest Industries Federation works to create good conditions for entrepreneurs and entrepreneurs who process the raw material wood into climate-smart materials and products.
About Lindex
Lindex is one of Europe's leading fashion companies with approximately 440 stores in 18 markets and online sales worldwide through third-party collaborations. Lindex offers inspiring and affordable fashion and the range includes several different concepts in women's, children's, underwear and cosmetics. Lindex is growing, both through its own channels, franchises and together with global fashion platforms. Lindex's higher purpose is to empower and inspire women everywhere, and Lindex's sustainability promise is to make a difference for future generations by empowering women, respecting the planet and standing up for human rights. Lindex is a wholly owned subsidiary of Stockmann plc.