Simple solutions for timely timber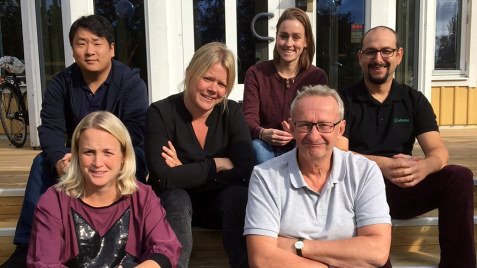 We know that our customers really value quick, smooth service. They want a fast, accurate response without having to answer too many questions themselves. To meet this need, we have chosen to have a centralised customer service, with one person responsible for each country.
In the front from the left Eva Hogland and Peter Berg. Back row from the left Gustav Elovsson, Hanna Johansson, Maja Kroon och Nehat Kadrija.
For a customer, this means being in contact with the same representative throughout the process, from placing an order to registration and delivery. By engaging in a close dialogue throughout the process, we become familiar with our customers' needs and know what they want and what is available, which makes the process run smoothly.
To further simplify the process, we offer Mex, a solution that automatically sends out documents such as specifications, order acknowledgements and invoices. This ensures the customer receives information quickly and that nothing is ever missed.
We have met many of our customers in person, but would like to meet more of you, so we often attend trade fairs and come along when our sales representatives meet with customers. If you happen to be in Långasjö where our offices are located, we hope you will come by and say hello.
Meet the customer service team:
Hanna Johansson
Works with: I am Customer Service Manager, and works with customers in the UK
Customer service strengths: We're a happy bunch, with a broad range of expertise and varying backgrounds in production and sales. We are flexible and help each other out during peak periods to ensure a consistently high level of service to our customers.
Interests: Horses keep me busy outside work.
Eva Hogland
Works with: I work closely with our sales representatives in Asia, Anna Xu and Jenny Jiang. I also recently started working with customers in the UK.
Customer service strengths: Because we have a highly skilled organisation and extensive experience in our industry. That makes it easy to transfer skills to new employees.
Interests: My family and children.
Nehat Kadrija
Works with: Poland is my main market, but I also work with the Baltics, Korea and the Mediterranean.
Customer service strengths: We are attentive and focused on our customers. We want to meet their needs in the best way possible.
Interests: I take part in competitive shooting and love cars too.
Peter Berg
Works with: My main market is Germany.
Customer service strengths: We are service minded, flexible and have a positive mindset within the group. We all take responsibility for each other's tasks.
Interests: I own a forest estate which keeps me busy, as do my eight grandchildren between the ages of one and nine!
Gustav Elovsson
Works with: I work with the Netherlands, Belgium and I recently started working with the UK.
Customer service strengths: It's a huge advantage that we sit together in the same location and can ask each other questions. This way we can give the customer quick answers.
Interests: I'm a football fan and support Arsenal.
Maja Kroon
Works with: I joined the team of 1 June and work with the Netherlands and Belgium together with Gustav.
Customer service strengths: I'm still learning, but it's a great team. Everyone is helpful and wants to find the best solutions for customers.
Interests: I like interior decorating and travelling.
Roger Franksson
Works with: I work with countries in the Middle East/North Africa and window manufactures.
Customer service strengths: We work well as a team, offer a high level of service, handle questions quickly and have a positive attitude when it comes to meeting customer needs.
Interests: I'm interested in agility training and am also a judge. I'm also a big football fan.
Show all content for topic.
Subjects: Timber
News
Subjects: Timber
Published:
Share