Peak wood? The short and long view
Housebuilding appears to have peaked at a high level in two of Södra's key markets – Sweden and the UK. However, production has topped out, too. It is at its highest-ever level historically and there is little opportunity to take it significantly higher.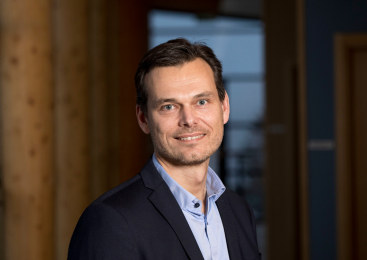 The housebuilding demand has peaked at a high level in Europe but demand from other parts of the world is still increasing, and with the supply side still under pressure, the upward pressure on price in Q3 continues.
To understand some of the drivers for this market's dynamics, it can be helpful to divide them into short term issues and long term, structural ones.
SHORT TERM:
Weather: We can't control it, but weather plays an important role and is influential over short-term cycles. The wet winter and now the unusually dry summer in Sweden have certainly proved challenging. Despite this we have kept production at record levels, but demand has left stocks of spruce and pine at record low levels.
Demand: Demand for housing in Europe is unprecedented but probably at its peak for the foreseeable future according to many sources, including Euroconstruct's November 2017 report on housing starts of all types. Sweden experienced its highest ever monthly demand for construction timber in May this year, but this is probably the high point for now. The demand trend is set, however, with demand keeping the upper hand over supply, so stocks are sure to remain under pressure.
Canada: Multiple woes affect Canada – including over-harvesting, beetle infestation and now countervailing and anti-dumping duties. It is a fluid situation but likely send US buyers to Europe to increase their softwood imports for some time to come.
SHORT AND LONG TERM:
China: Arguably China's dramatic rise in significance as a timber consumer is a long-term phenomenon – after all, within a decade, China has increased its timber consumption by at least 500 percent. Annual per capita consumption at 0.05 cu m remains relatively low – it is a third of the UK's and a tenth of Sweden's levels – and were it to double, China would match Europe as a market for wood. Yet while China's significance as a timber market will not diminish, it is subject to the fortunes of the country's economy and house-building policies, so it should be seen as an influence on short-term market dynamics, as well as long-term prospects. The short-term stock situation is high in China, due to stricter air pollution controls. This has lead to less consumption while the timber industry adapts to the new regulations, but we expect demand to be back to normal by the end of the year.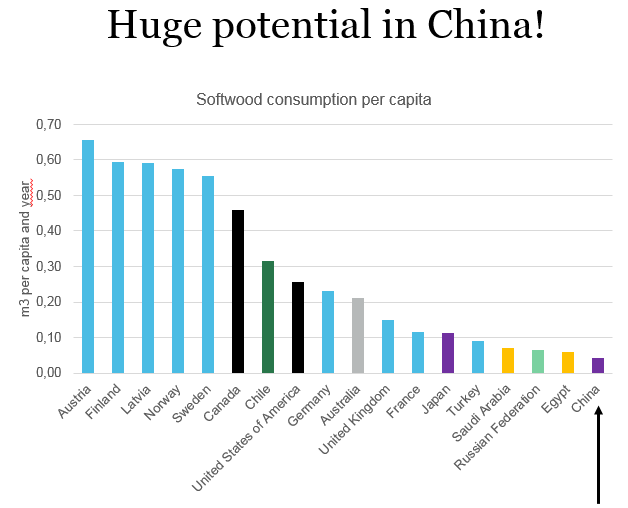 LONG TERM:
CLT: The possibility to build taller timber buildings thanks to CLT means that timber is gaining market share which gives it resilience to any downturns or levelling off in construction. CLT is set to gain an extra 900,000 cu m of production capacity in Europe by 2020.
Wood is popular: The sustainability credentials of wood are a long-term influence which, along with CLT, are likely to keep wood ahead of the construction market in general. Sweden, for example, has a target to build 50 percent of its houses from wood by 2025 as part of the Lean Wood Enterprise initiative.
Production peak: There isn't enough timber to feed any significant new sawmill investments so there is no meaningful production increase in sight. Where there is log availability there are other problems: Russia for example lacks the infrastructure to exploit its resources and faces resistance from investors.