CLT goes commercial!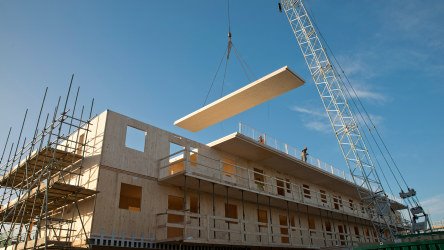 It's official. Södra is now a commercial CLT supplier, with all the approvals in place and the infrastructure to supply the market.
Launched at an event at Södra's Värö mill in Sweden, where approval for a second CLT line was given earlier this year, the news was warmly received by the audience of architects, builders and property managers.
The lines at Värö will have a joint capacity of around 140,000 m³ per year, which is the equivalent of approximately 5,000 apartments.
The initial market will be Sweden with the first export deliveries to other Scandinavian countries anticipated in 2020. Market dynamics for CLT in other important markets such as the UK are being investigated.
Business Development Manager Urban Blomster explains the motivation behind CLT: "Sustainability was probably the original driving force, but other advantages soon became evident. CLT is lighter for transport so saves money and time, particularly for urban projects. The focus on off-site construction is also a big bonus for builders who need to minimize the time on site.
"Demand is likely to outstrip production for the next decade although new mills are coming on stream. There is also a need to increase skills in the use of CLT. It is a culture change off and on site and education is essential – particularly as CLT will need to develop with demand for taller buildings which will likely require the use of hybrid systems. But it is worth it in terms of sustainability and efficiency.
"At Södra we have the possibility to be quite a big player in CLT because of spruce in Southern Sweden, which has good strength, gives low emissions into living space and has been well managed for future supply."
Show all content for topic.
Subjects: Timber
News
Subjects: Timber
Published:
Share