about the picture
Storm damage after the storm Gudrun 2005, which developed into the worst storm we know in Sweden. About 75 million cubic meters of forest fell during the storm´s ramp.
On Friday evening on 7 January 2005, meteorologists could see a low-pressure system forming northwest of Ireland. One day later, the low-pressure system had developed into the most powerful storm, with the most devastating effect on forestry, ever experienced in Sweden. Småland, Halland, northern Skåne, Blekinge and southern Västergötland were the hardest hit areas. Winds of up to 33 metres per second (hurricane force) were measured in several places, and the most powerful winds reached 42 metres per second. Almost four years worth of harvesting volumes were felled in just a few hours. In many places, around 10 years of harvest were unable to stand their ground. The damage was also worsened by wet soil without any ground frost.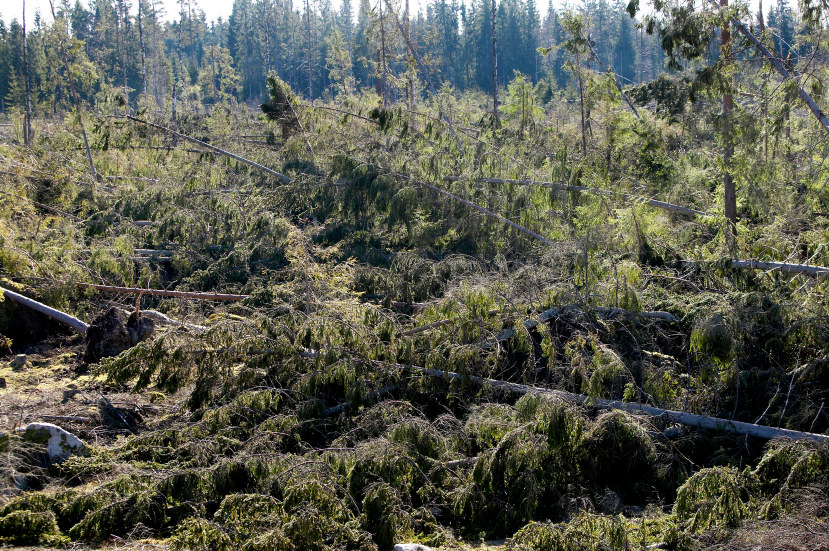 Disastrous consequences
Storms had certainly felled forests before – in October 1967 and autumn 1969, for instance – but never to such an extent. On both of these occasions, about 10 million m³ was destroyed. According to the Swedish Forest Agency, some 75 million m³ of forest was felled by Cyclone Gudrun. It was a financial disaster for forest owners, but also a personal and emotional disaster when forests tended by families for generations were felled to the ground. Rapid action
But history was on Södra's side. In previous crisis, Södra had shown its true mettle and gathered both resources and unwavering commitment. It quickly established principles of equal pay. And secured social support for the forest owners. The organisation's resources for processing the storm-felled forest were significantly strengthened, timber terminals with water systems were established and Södra's mills maximised their use of the storm-felled wood.
During the first few years after Gudrun, forest owners who had not been affected by the storm agreed to lower their timber deliveries – a hard economic blow for many of them, but a measure that significantly reduced the financial hardship of those who were affected. The huge supply of wood from Gudrun stretched all the way until spring 2009. The outcome was better than feared. The experience also improved Södra´s knowledge of post-storm clean-up operations. This would prove useful just two years later when Cyclone Per hit, albeit not quite as furiously as Gudrun. Södra's history would not be complete without storms – and the latest are probably not the last.
Read how forest owner Roger Johansson worked to clean up the damage left by Cyclone Gudrun in an article from Södrakontakt, no. 4, 2005.