The forest industry in southern Sweden was small, which had held consumption and wood prices down. The forest companies did not believe there was enough wood for pulp production, but Södra's founder and President Gösta Edström took a different view. He believed there was more than enough wood, and was prepared to take the matter into his own hands and expand the pulp business. When the plans for a pulp mill at Mönsterås were presented to the Board in January 1952, there wasn't a great deal of money to invest. But Södra, together with thousands of forest owners from all over Sweden and their associations put up the share capital of SEK 50 million. The first pulp was produced at Mönsterås in November 1958. It marked the start of the company´s investments in the wood pulp industry. Over the years, bold initiatives have borne fruit in the form of increased wood consumption, higher wood prices and profitable mills. These profits have been reinvested to grow the company and s share distributed back to the owners.
Reaching an agreement with all of the mill's partners was no easy feat, however. Södra eventually became sole owner of the mill, which was gradually expanded. A completely new facility was built in the 1970s, and further extensions were made in the 1990s.
Mills at Mörrum and Värö
Competition with Wallenberg's forest company was intense when the mill was being planned at Mörrum. Södra had already bought the land, but more was needed. It was acquired in fierce competition with Wallenberg who eventually pulled out and built in Nymölla instead. Construction began in December 1959 and was celebrated with a dynamite charge; the atmosphere was literally explosive! The first pulp was produced 17 months later. More than 6,000 guests attended the inauguration of the mill, which was opened by Prince Bertil. Gösta Edström spoke about the significance of the mill: "Anyone who remains a raw material producer but is not interested in taking care of the processing is doomed to failure. This mill is just the first milestone, there is more to come," was the message from Edström, who had Värö in mind. But before that, Mörrum was expanded. In 1970, there were separate lines for softwood pulp and hardwood pulp, 300,000 tonnes per year.
Planning the arrival of the Värö pulp mill was linked to the merger of all the forest owner associations in the area, whose members needed markets for their wood. But it took a long time before the mill was ready for operation. The opposition was intense and took many forms. The environmental movement was highly vocal, and the debate and protests took time. Operating permits and court rulings took several years. But testing commenced in the summer of 1972, and inauguration followed. One year later, the production volume had reached 220,000 tonnes.
Chlorine-free pulp
In the early 1990s, Södra introduced a new pulp product, total chlorine-free (TCF) bleached pulp. The Z pulp presented in 1992 was produced in an environmentally friendly ozone-system facility. Bleaching pulp with chlorine had long been a major environmental issue, so Södra took the lead and removed the chlorine. Södra's initiative upset many of its industry colleagues. The entire forest industry had been at loggerheads with environmental groups for some time, claiming that chlorine was not hazardous because it was used in drinking water and for other useful purposes.
Pulp mill in Norway
In the summer of 2000, the Norwegian pulp mills, Tofte and Folla, were acquired from Norske Skog. Södra was now the third-largest pulp supplier in the world, with a total production volume of more than 2 million tonnes per year. In softwood pulp, Södra was the leader.
In the autumn of 2012, Södra decided to phase out the pulp mill at Folla and a few months later, in early 2013, announced that Tofte would also be divested.
Dissolving pulp and new investments
Södra is continuously developing new grades of pulp and in 2012, a completely new product for Södra – dissolving pulp – was introduced into the mill at Mörrum. Dissolving pulp is used in textile production as an alternative to cotton with the advantage that the production process has a lower environmental impact.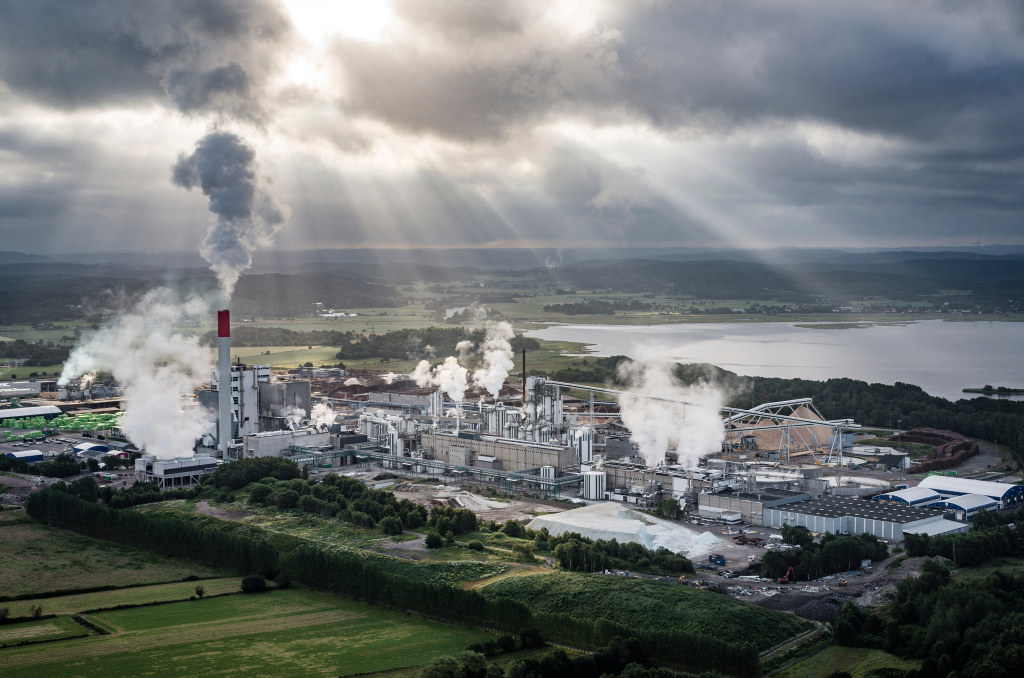 In 2014, Södra's Board decided to make the biggest mill investment in the history of Södra – the Expansion Södra project. A total of SEK 6 billion was invested in the three pulp mills: SEK 4 billion to raise production capacity at Södra's pulp mill at Värö from 425,000 to 700,000 tonnes of pulp per year; just over SEK 1 billion to raise capacity at Mörrum by 45,000 tonnes, bringing the total production of paper and dissolving pulp to 470,000 tonnes; and just over SEK 300 million to increase energy efficiency and productivity at the mill in Mönsterås.
In September 2016, a virtually new pulp mill was opened in Värö, with one of the largest production volumes of softwood sulphate pulp in the world.