We find Therese Lidberg between orderly rows of plants. The Olympic swimmer from Gothenburg still swims in open water now and then, when the temperature allows. Now she lives in Varberg, works at Södra and loves to fill her days with gardening.
Until now, my laundry at home has been full of plants. Now the season has finally arrived, and I can plant them outside.

/therese lidberg

A sea of plants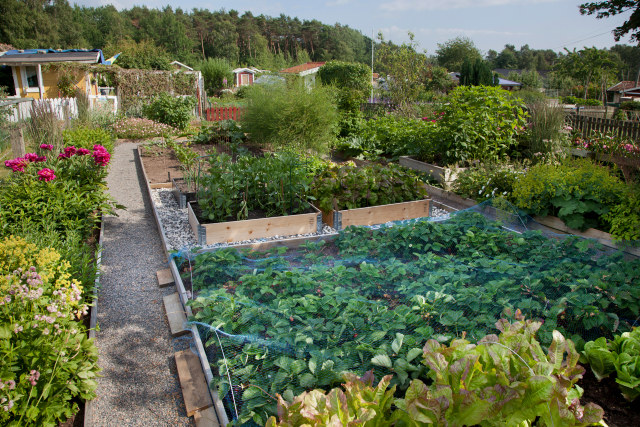 The Prästakullen allotment garden area. This is where Therese spends nearly all of her free time in the summer – in an area of 115 square metres. This is where she has her greenhouse and several neat rows of newly planted flowers and vegetables. There are nearly 200 allotments in the area and luckily, Therese's allotment is sheltered from the wind.

"I'm here two to three times a week to just poke about, dig and water. I like using my body and I am very active while I'm here. I like to grow things to eat, preferably where the edible part is above ground, such as asparagus, chilies, tomatoes and cucumbers. I also have a batch of lettuce in the greenhouse which I hope will thrive. I'm self-sufficient in vegetables from June to October, which I love. I know where the vegetables come from and, of course, they taste great."

Therese also grows flowers. Her favourites are peonies and perennials. She has a few roses, but admits they have a thorny relationship.

"Yes, my relationship with roses has its ups and downs. They almost always get aphids. But they're so lovely that I keep them. The perennials are beautiful and easy to care for, and I like the peonies because they bloom early and are impatient – just like me," she says with a laugh.
Focus, simplify and challenge
The year was 1992, and Therese was competing in the Olympics in Barcelona. The year before, she had come third in the European championships, and one year later, she would win silver. But the Olympics went very differently.

"I came in twelfth and was extremely disappointed, and my swimming career would end the following year when I got a slipped disc in the middle of race. But in a situation like that, I'm grateful that as an athlete, you learn to grow and develop through challenges and failures."

Therese started working at Södra in 2014, after reading about the Värö project and Södra's expansion. She resigned from her permanent job at Ringhals to start working at Södra on a project basis.

"I thought that working with Södra to build the future sounded like an exciting challenge. I don't have any basic technical knowledge, but I've learned a great deal by being part of the purchasing team for this major project. I like challenges, and that's what this project has given me. Since Södra is based on the forest, the company is perfect for me since I've always been fascinated by vegetation and recycling."

Therese likes to keep things neat and tidy, which is obvious from her little allotment. The aisles are filled with perfect rows of plants and vegetables, and Therese says that once she gets out here and starts pottering about, she can't stop.

"Coming out here after a day at the office is like meditation. Once I've started fixing things, I can get a bit obsessed. I forget what time it is, and keep at it for several hours. If a plant is wilful and difficult, I only try it twice. After that I'd rather try something new or stick with something I know will work. That's actually the opposite of my approach at work, where I refuse to give up and try to find new ways to move forward instead."

Therese continues planting tomatoes and the sun is on the way down. We leave the allotment for now. The peonies are blooming and summer is here.