Once someone said, "Oh, those poor pigeons that get shot at all the time. Why can't people just leave them alone?" The person was referring to clay pigeons, but didn't understand that the little guys aren't real – that they're made out of clay.
Andreas Björnesund, the Swedish champion in clay pigeon shooting, certainly understands that his targets aren't live. He has been hanging around the shooting range since he was a child, leading to numerous medals, fame and some swearing when things don't go as intended.
"It takes an unbelievable amount of practice and mental strength to become an accomplished clay pigeon shooter. You need to be mentally strong in order to focus and perform. When I'm competing I practise several days a week, and last season I fired 22,000 shots.
CLAY PIGEON SHOOTING – A SPORT WITH A HISTORY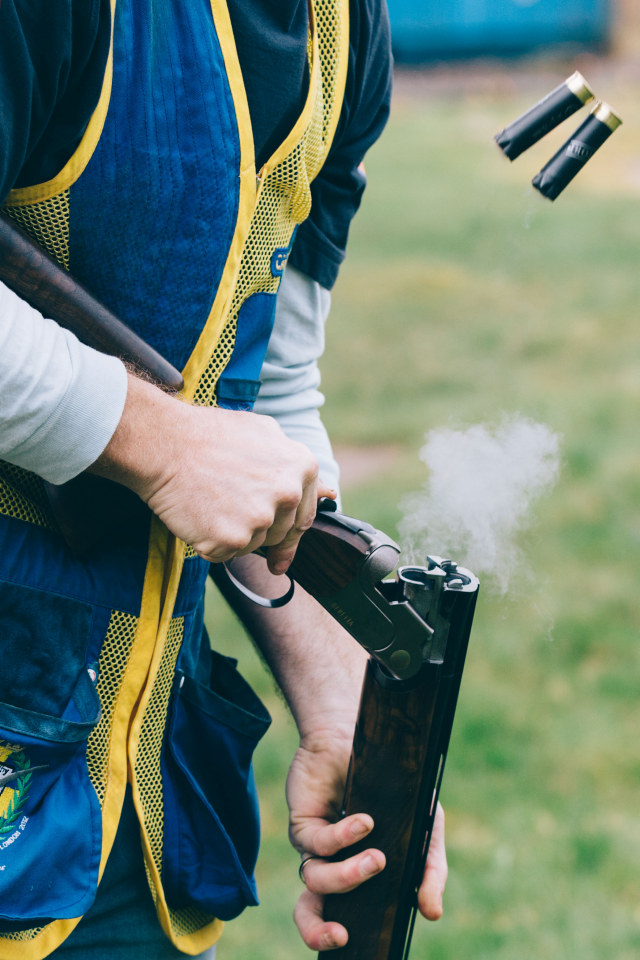 Clay pigeon shooting is a sport shooting activity where shotguns are used to shoot so-called clay pigeons. The targets are thrown by machine or by hand, and shaped like a small Frisbee. They are made from a mixture of coal tar pitch and chalk, and smash easily when hit. They're usually painted a highly visible colour, such as orange.
"Clay pigeon shooting has been a sport for a long time. The main disciplines are skeet, trap and double trap, which are Olympic sports. I compete in skeet shooting, and my Dad did too in the 1970s, which inspired me when I was growing up."
In skeet shooting you have two traps, a tower and a box at each end of the field. You walk around the field in a semicircle with seven stations, and an eighth station in the centre. The goal is to hit as many clay pigeons as possible. There can often be several released at once, depending on the competition.
Andreas was the Nordic champion in 2014, and the Swedish champion in 2013 and 2014. His goal is to defend his title in June at the Swedish championships in Uppsala.
"I stopped shooting in 2000, but started again in 2009. So time has moved fast. But now I have to move into a higher gear if I want to win more than just another Swedish title. The Olympics are just around the corner."
Building platforms
Andreas' regular job is building platforms at the pulp plant in Mönsterås, a job he's been doing since 2009. The job requires a tremendous degree of accuracy and precision, since the working environment and safety are at stake.
Right now Andreas and his co-workers are helping to build platforms for the pulp plant at Värö, which needs them urgently due to an expansion. They also help other units when needed.
"You need to take training courses to know what to do, and the platforms must comply with standards and regulations. You need a harness and the right equipment, and preferably not be afraid of heights," says Andreas.